Latest Books By TJ Ryder



$3.99

Springfield 2: New Gyrl in Town! (TJ Ryder)

Style: Gay/Lesbian/Bisexual Erotica, Interracial Erotica

Sequel to Springfield's Dark Secret, this continues the transition of the submissive young new pharmacist into a shemale to serve the demands of the thousands of big black studs who come into the small farming hamlet on weekends, but he finds out there are problems if a boy becomes too beautiful, jealous women, competing lovers, demanding and humiliating encounters that never end!
---



$3.99

Serving Hard Time 2! (TJ Ryder)

slim blonde submissive white boy in blackruled prison

Style: Male Dom - M/M, Sado-Masochism (SM)

Bud continues his prison sentence, making new friends and serving new black masters while wondering if the relationships he's becoming adapted to will affect his return to college life. Especially his own feelings for a cruel dominant guard whom he can't make up his mind whether if he's even aware of what was developing between the constant humiliations, tortures, and pain!
---



$3.99

Mother's New Maid! (TJ Ryder)

Cruel Stepmom and daughter decides Timmy is going to switch from a bad boy to a

Style: Fem Dom - F/M, Young Adult Bondage/BDSM

Teen boy's beautiful but cruel stepmom and her daughter waited long enough to see if Timmy was going to be a good boy, and after being caught breaking the law he is given a choice between a military academy or a different way of life. Between the cane, paddle, maid service, cosmetics and his stepmom's giant black lover, this bad boy reluctantly is given another chance to be a good gyrl!
---



$3.99

Stripper's Sissyboy! (TJ Ryder)

Style: Interracial Erotica, Cuckold Fetish

By tj ryder
Rating: Not yet rated.
Published: Oct. 21, 2013
Words: 8,710 (approximate)
Language: English
ISBN: 9781301277100


Description

Meek accountant working at Starlite Entertainment falls for an gorgeous exotic dancer and helps her with taxes thinking she is way out of his league, seeing her going on dates all the time with giant black athletes until he finds out that other white girls who have gone black as they get older like Bambi end up marrying white males like himself if they can pass their humiliating, painful tests!
---



$3.99

The Prison Tease! (TJ Ryder)

Buxom prison guard in short skirt teases males until they break the rules!

Style: Fem Dom - F/M, Sado-Masochism (SM)

Buxom exhibitionist guard at a femdom prison loves to tease males while she struts around the cells at night, but what they don't know is that after she's left and a deprived young man aches to gratify himself despite the orders of No Masturbation, she is then sitting in her office using the cameras on the cellblock to catch him, and then lead him down to the dreaded Punishment Room for CBT!

---



$3.99

The Male Tamers! (TJ Ryder)

Tales of an experimental female run prison for young males!

Style: Fem Dom - F/M, Young Adult Bondage/BDSM

Oakdale, the experimental prison run by women for men is designed to give young males the option to complete a shorter but more intense sentence and have their crime reduced to a misdemeanor; and Will, a college student optioned for it, without knowing that Oakdale uses cruel but beautiful exhibitionist teasers who love to trip up the prisoners so they can take them to the dreaded Punishment Room
---



$3.99

Elevator Boy Etiquette (TJ Ryder)

Style: Erotic Domination - F/M, Interracial Erotica

Small slim white boy was disappointed to learn the job was as a lowly elevator boy and then learned the hidden side. Mandrill
---



$2.95

Mother Daughter Male Tamers! (TJ Ryder)

Style: Fem Dom - F/M, Sado-Masochism (SM)

Teen boy has to deal with his father's new bride and his new teenage sister. He suspected they were gold diggers but they were so charming and gorgeous at first! Plus they paraded around the mansion in practically nothing but he got caught peeking at their bodies and they confronted him. Either accept a spanking or they would tell his father. He had the feeling this was planned all along!

---



$3.95

Room Service Submission! (TJ Ryder)

Submissive bi shemale bellboy at interracial trysting hotel

Style: Cuckold Fetish, Interracial Erotica

Bellboy at Hotel Royale assists his beloved chambermaid who has a black master with room service, and sometimes that involved taking the risk of arranging for the white staff members to use an empty room for their own pleasures. He would do anything for the gorgeous maid Charlotte, and waiting on her and her black lover was the latest humiliating act she had made him do, so far!
---



$3.95

The Pantied Penis! (TJ Ryder)

Cuckold bellboy agrees to wear his ex girlfriend's panties!

Style: Cuckold Fetish, Gay/Lesbian/Bisexual Erotica

Club Royale bellboy still loves a beautiful chambermaid even after she goes black with a giant stud and despite himself he agrees to be her special friend, and with her mentor's advice, he descends even lower to being a 'pantyboy'. Every time he thinks there is no more humiliation or punishment possible, either the arrogant female guests or his 'girlfriend' Charlotte or her giant lover do more!

---
Best Selling Books This Year
by TJ Ryder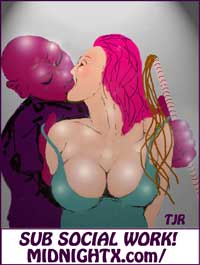 Author Information
I write and illustrate adult fiction stories, many long running series with themes of Femdom, Black/interracial, gay, crossdressing, Lesbian bondage, and forced feminization. I also manage websites to display my work, comix and animation!

http:www.midnightx.com/ and http://www.sissytrain.com